Your company's IT completely renewed without investments
Your Business is an adventure…
Why do so many companies rely on us?
All your co-workers are able to use their desktop whenever they need and through multiple devices.
Our solution is the most suitable for homeworking
Because Spike Cloud Systems main objective is to make its customers companies more productive by allowing their employees to access their desktop, from any device and from anywhere, with maximum security.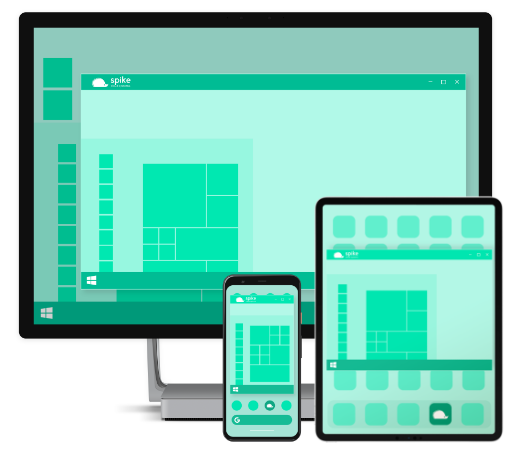 Spike solution reduces companies costs and IT's maintenance
Invest in cost-effectiveness
Your data will be in a prestigious datacentre in Portugal, therefore you avoid unnecessary investments and you will get fully crystal clear prices and no additional costs.
Safe and with daily backups
Your data security as well as you having full control over your information, is our main goal. Put an end to data leaks through centralized repository for all your information.
Spike´s Helpdesk is always available
By mail or call, in English or Portuguese
Having IT issues? Do you need any help? Contact us so that we can solve your issues quickly and effectively.
Spike Cloud Systems solutions
Data File Sharing
This solution is custom-made for micro-companies. For companies that want to have their own folders where they share their crucial information between co-workers, without investments and server maintenance. You can give specific permissions to each employee and ensure daily safety copies.
start from 40€/month
Virtual Desktop
Increase your business productivity with Microsoft office or desktop Libre office, in a private cloud. Your data will always be safe with cryptographic and antivirus connection. This solution enables and accelerates the digital transformation of your company!
Spike´s best practices in the following activities
Account and Financial Services
With Spike, your problems disentangle
Spike Solutions reduce costs plus you pay as you go
•
Many companies are affected by seasonality, which require less staff throughout a certain period of the year. Wouldn´t it be great to invest merely on what you need?
• Do you evaluate the cost of energy to have a 24*7 server connected in the office? We do! It is quite expensive. With our services, you reduce quite a lot in energy expenses. Let us join forces to reduce energy waist and expenses!
• With Spike services, you pay a monthly fee. It will make a huge difference in your business finance hence the banks sees lendings and even rentings as a financial risk. With Spike, the credit available in the company goes to business transaction.
Spike priority is security
•
At last! You can rely on your back-ups! Well-made security copies are a rarity. How many companies verify that the copies are really well done?
• Spike servers are in a renown datacenter and are solidly protected. Yet, in the classic approach, when a server fails, it may take days to reinstall a broken-down or a virus infected server, chiefly if it is out of the manufacturer's 36-month warranty.
• With us, no more Pc's or Laptops with local data stolen/lost/damaged eventually. Servers and PCs are usually open to hackers because it is difficult to keep them safe as they are expensive in terms of technical services.
• Spike enforces access restrictions in order to guarantee privacy. Then again, in classical IT, servers typically have private and restricted areas poorly configured. They end up having everyone access to everything, even confidential information.
Mobility, Spike middle's name
•
An employee can smoothly access his desktop Spike from home, outdoor or at a customer. No need for VPN solutions that are unreliable, slow, and difficult to manage.
• With Spike, it is more likely to have only one version of the same file. Contrariwise, in classic IT, an employee who takes a PEN out of the company ends up not updating the data of a common area or sharing. It promotes information islands with dozens versions of the same file, many outdated.
Performance
•
No more old or Windows PCs loaded with spyware that slow down and have a big impact on employee productivity.
Update
•
With spike solutions, the pc's of your company are always updated. Pc's have identical and updated Licences and are compatible between them. Different versions of Windows, office and antivirus generate problems and disrupt work.
Helpdesk
•
Why deal with a subcontracted computer technician? He comes only from time to time and sometimes has limited knowledge in some areas of computing.